Archive Music is music that is produced specifically for the soundtrack of industrial films, television and feature films, commercials, etc. In principle, publishers of archive music like the Proud Music Libary assist in the selection of appropriate music. For this reason the Proud Music Library established a awesome search engine to find a piece of music very fast and to license this music track for commercial projects.
Our fast search maschine to find archive music tracks directly:
For the term archive music is often the term stock music used. In the Proud Music Library you find roundabout 30,000 tracks of archive music (Feb. 2015). Some tracks are not registered with any domestic or foreign collecting society. These tracks are marked as "completely royalty-free music", which not means "music for free" or "free music".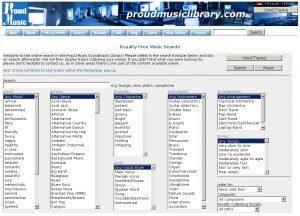 Merken