"Production music" is basically defined by two core attributes – in content and in a legal attribute.
Start here to search for Production Music in the Proud Music Library:
1. Production music is pre-cleared-music:
Production music is planned to be used in audiovisual products. A large part of the necessary rights can be clarified previously by a music publisher. The rights clearance can thus be cost- and time-saving.
Production Music is offered by production music libraries, these are music publishers who act primary as supplier for the media industry. The Proud Music Library Publishing has a large online content especially for the media sector. It is easily to handle per search engine.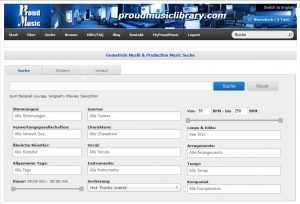 2. Production music has a special applicability to be connected with visual media:
Not every music style is suitable for the use in media productions. Production music however is picked out in respect of the different requirements of media producers/companies. In our Proud Music Library you can search for different attributes like mood, character, instrumentation or tempo – depending on what style of music your current production requires.